The Challenge of Science Leadership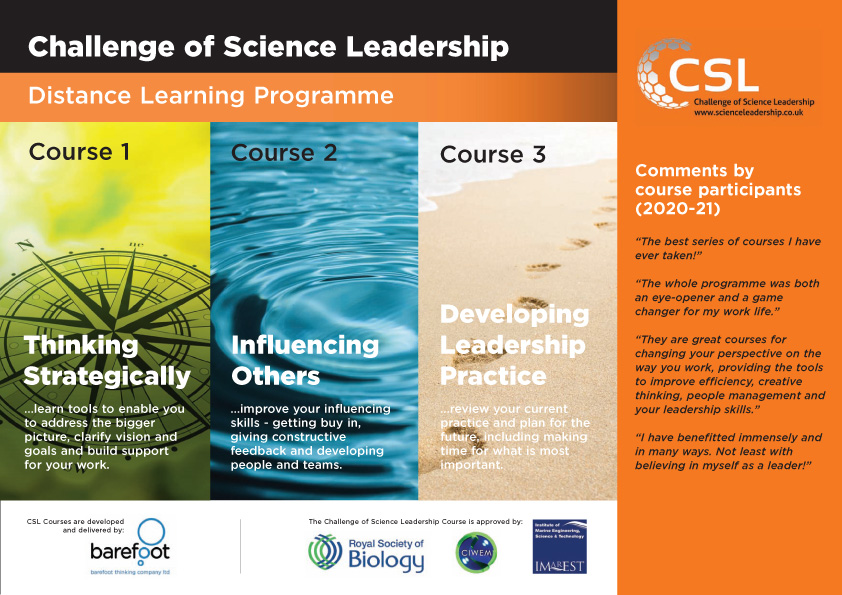 Globally science is facing urgent challenges on many fronts including climate change, energy needs, food scarcity, plastic pollution and disease threats.
Scientists and science professionals are under pressure to advance research, produce publications, develop policy, design and enforce regulation as well as bringing on the next generation.
Scientists get many years of training in science, but much less for non-science skills – particularly leadership, which includes being able to see opportunity and shape vision, get buy in from others and achieve effective action.
The Challenge of Science Distance Learning Programme provides an integrated toolkit for those in leadership roles (from early career onwards) whether working in academic organisations, public bodies or commercial companies.
CSL Distance Learning Courses

CSL Distance Learning Courses provide integrated leadership tool kits that are built on our experience in running the CSL training course for over a decade. There are 3 courses available:
Course 1: Thinking Strategically
Professionals in leadership roles need to be able to see the bigger picture, identify and develop opportunities and enable action to take place. However, many find that much of their time is taken up with operational matters and day-to-day decision making.
This course provides tools to facilitate strategic thinking and action.
Whatever the leadership role, there is a need to get the support of many other people to advance projects, stimulate innovation and succeed with change. There is little of significance that can be achieved today by people working solely on their own.
This course provides tools to enable participants to improve how they influence others in support of effective communication and collaboration.
Course 3: Developing Your Leadership Practice
Leadership skill development is a journey of learning and improvement over time. In the face of research, projects, publication and administration, it is often hard for scientists and science professionals to find the time to focus on such work. Yet without it, success may harder to achieve and careers slower to progress.
This course provides time and tools to enable participants to consider their current challenges and to identify goals and plans for the future, including how to make time for what is most important.
Quotes from Past Participants
'The best series of courses I have ever taken!'
'The whole programme was both an eye-opener and a game changer for my work life.'
CSL Distance Learning Course Programme, June 2021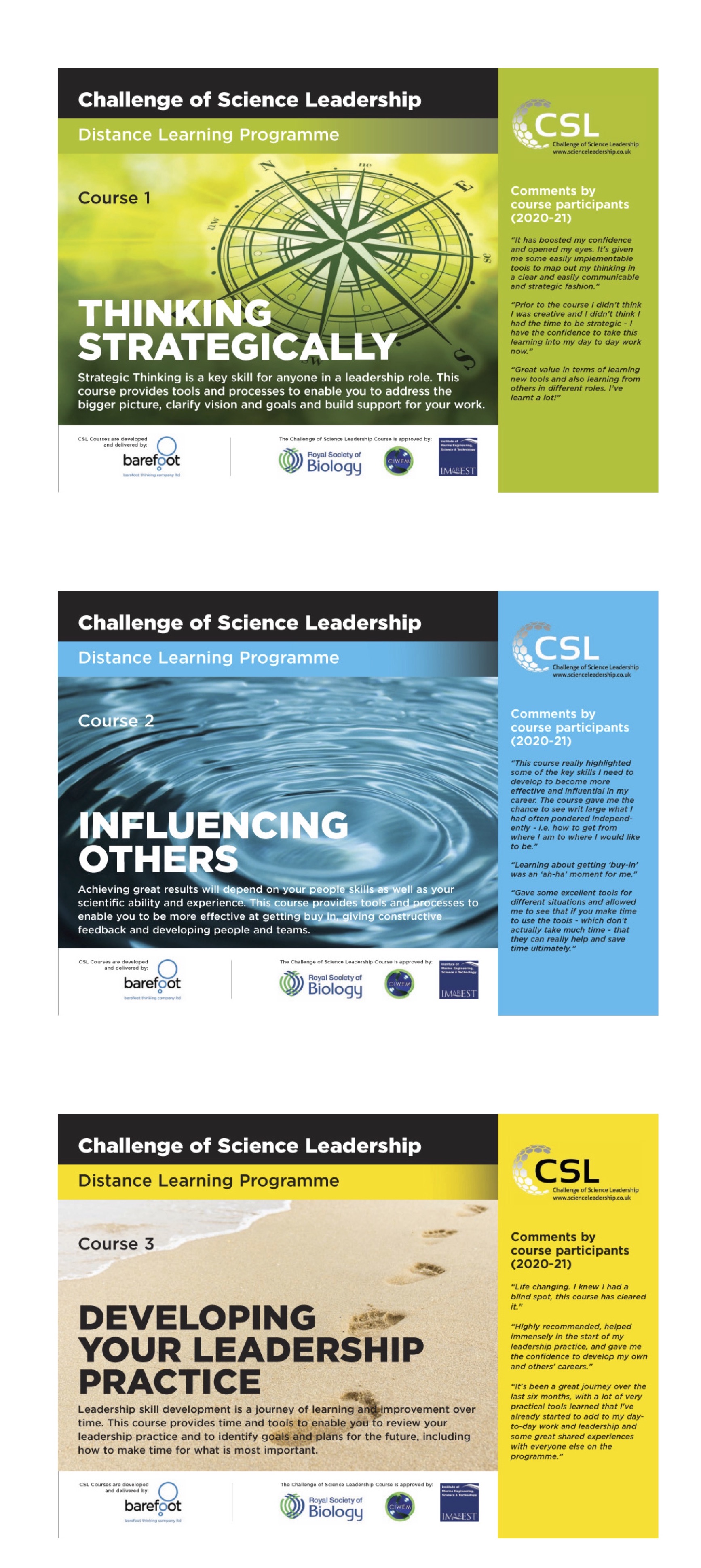 Registration and Further Information
BOOKING
Please click on the individual courses above to book your place through Eventbrite.
FURTHER INFORMATION
More information on CSL DL Courses and the CSL-DL Programme can be found on the CSL Website.
You can also contact [email protected] for more details.

Examples of Current and Future CSL-DL Courses